Pathway Links
Objects in the Physiology (species and reactions) and pathway entities in a Pathway Model can be linked. The linked objects are marked with a letter 'L'.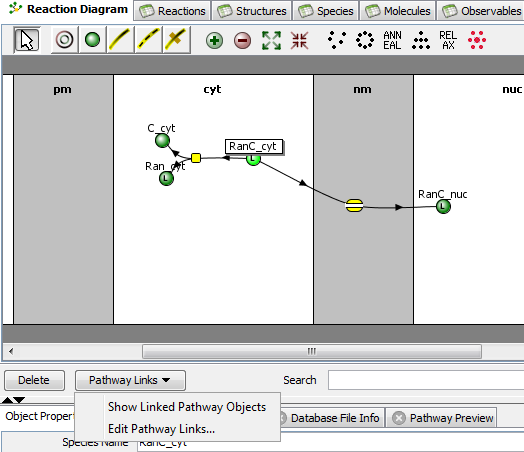 Selecting a single species or a single reaction in the Reaction Diagram, Reactions Table or Species Table enables a Pathway Links button.
If a species or reaction is already linked to a pathway object, there are multiple ways to see Linked pathways objects.
Double click on the blue underlined link that appears in the Link column in the Reactions and Species tables or under Linked Pathway Objects in the Reaction Diagram. Annotations and Pathways can be viewed in the Reaction and Species Object Propertiespane.
Select Show Linked Pathway Objects under the Pathway Links menu.
In either case a Pathway Diagram view appear in the main model workspace. Linked objects appear in red in the pathway diagram.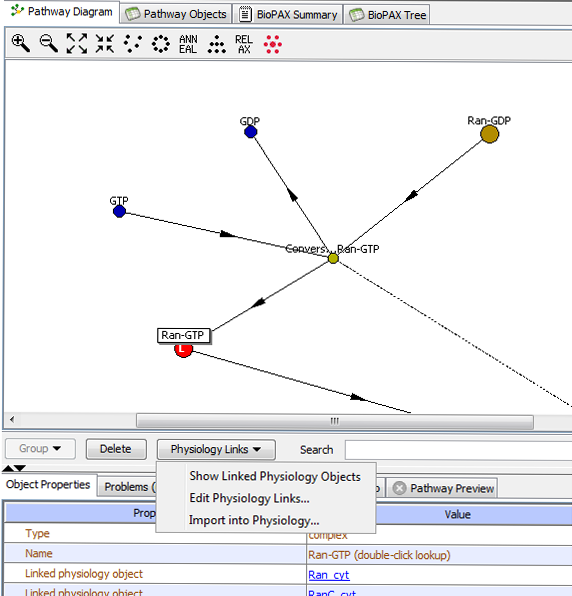 /Add or edit Pathway Links. by selecting Physiology Links -> Edit Physiology Links... to initiate a dialog box with the list of all objects in the Biomodel (physical entities for a species or interactions for a reaction). Create new links or delete existing links by checking/unchecking the checkbox in the table of objects in the dialog box. A Search field is provided for filtering the list of objects.