Compartmental Simulation Results Plot Settings
The simulation results plot graph is interactive. Move your cursor over the graph, a crosshair will appear and the corresponding X and Y coordinate values will be displayed in the bottom left corner of the dialog. Right click your mouse in the plot area to access Plot Settings.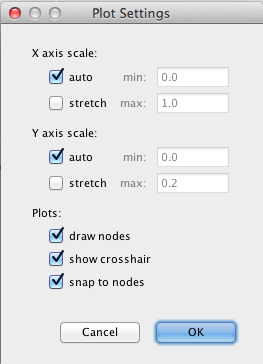 Axis Scale: Select either auto scale mode or deselect for manual scale model. When in manual mode you must supply min and max graph values.

Auto Scale: Computer will calculate best values for displaying graph. ???

Stretch: In auto mode, use to stretch graph for better viewing.

Plots: Plot display options.

Draw nodes: Select to draw a node at each data point.

Show crosshair: Enable the crosshair to be displayed when you move your mouse over the graph.

Snap to nodes: Select to have crosshair snap to nodes, deselect to move crosshair freely across the graph.