SABIO-RK - Biochemical Reaction Kinetics Database
SABIO-RK (Coming soon to VCell) is a curated database that contains information about biochemical reactions, their kinetic rate equations with parameters and experimental conditions.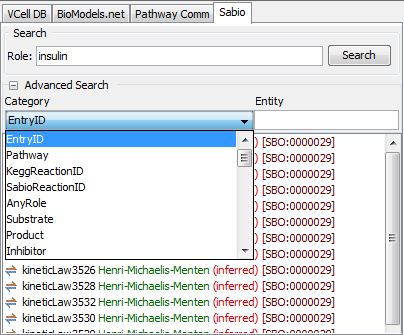 Search->Role textfield Enter search text
Search button Press to search Sabio-RK repository.
Advanced Search->Category menu-button Select a criteria to refine currently displayed search list.
Advanced Search->Entity textfield Enter text to refine current search results using the selected criteria.
Search Results tree Displays search results from the Sabio repository. Select 1 item from the list to download a table of subcomponents that can be imported into VCell. See Pathway Import for information on how to import selected components into VCell.